2017 September
Macquarie Dohne Stud is in its 17th year and is an Australian foundation Stud, registered Flock no. 4. This will be our 14th annual ram sale, a milestone for an Australian Dohne stud.
The future looks bright for the sheep industry and agriculture in general. Numbers are struggling to meet demand for both meat and wool.
There is no better time than now to join the ewes up with upgraded genetics and young fresh rams. High quality maternal genetics is where the profitability lies.
Macquarie rams are;
All reared on their own mothers in a commercial situation.
We do not grain feed rams except in drought conditions.
Our rams are grass-reared. This is the way rams must be presented for sale if you are looking for soundness, fertility and longevity. There are not many in the stud industry that do it this way but the Macquarie rams will live in ANY climate…..from north west Qld to southern Tasmania. Their fertility, longevity and lamb rearing ability is as good as anyone in the industry.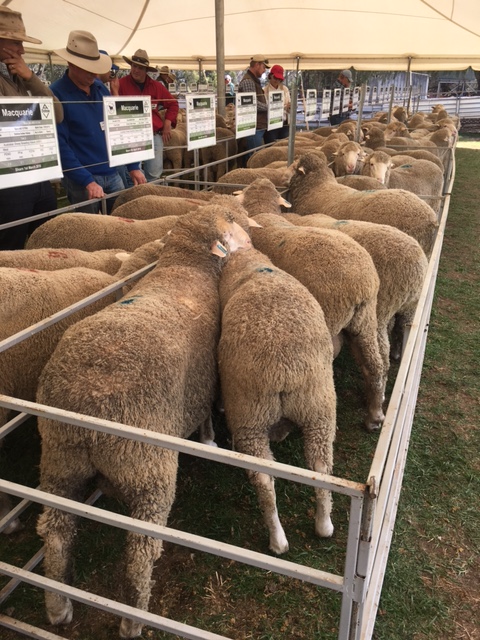 2016 On Property Sale
We're all about producing superior Dohne genetics. We understand what a 'true' Dohne is.
We maintain an efficient, productive ewe flock, selected on the basis of science and practical assessment.
Our ewes demonstrate the following commercially relevant traits:
Constitution – ability to ride out lows of nutrition.
Fertility – ability to rebreed in a short joining period under prevailing nutrition levels.
Adaptability – ability to respond positively to fluctuating nutritional and climatic environments.
Production Efficiency – ability to convert available feed.
Our breeding program aims for a balanced set of EBV traits, backed up by a strict visual appraisal for structure, wool quality, staple length, doing ability and soundness. Commercially unprofitable sheep are eliminated.
We utilise technologies such as embryo transplant, artificial insemination, genomic analysis, DNA and objective measurements (EBVs) to achieve genetic gain in each generation of Macquarie sheep.
I am hearing extremely encouraging results from the sale of Macquarie blood ewes and wether lambs throughout the country. The general comment is, the processors, feedlotters and restockers want more of this uniform, pure and consistent product. This has been gained through the depth of the Macquarie maternal genetics. The best females have always been retained and the best genetics have always been used. There is no other bloodline that can deliver the consistency and uniformity than this foundation bloodline.
Some recent Auctionsplus results
Wickman Family Trust, 345 SIL Ewes – $140
DJ & MA Berrell, 492 SIL Ewes – $225.50
RA & CM Barden, 900 Ewe Lambs – $170
MD & MJ Winning, 600 NSM Ewes – $150
N & L Fox, 216 SIL Ewes – $185
O'Brien Brigalows Pastoral Co, 540 SIL Ewes – $185
Rose Isle Pty Ltd, 750 Ewe Lambs – $131 & 660 Store Wether – $86.50
Woomera Pastoral Co, 371 SIL Ewes – $171
MD Ace 13-7141 is a deep bodied, deep twisted sire with excellent conformation. 7141 carries a gutsy, long stapled 64s fleece on a thick supple skin. Sold to Midgery and Kardinia Studs for $10,000.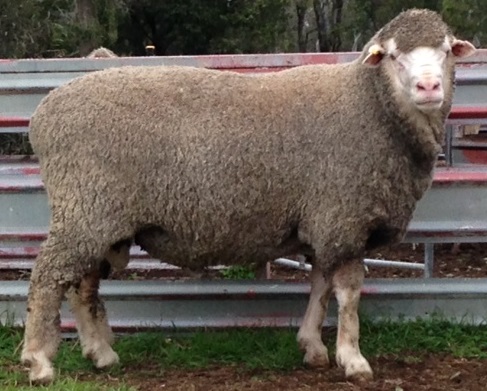 MD Ace 13-7141
MD Ace 11-4418 a 'meat machine' with great width, depth and twist. 4418 is a 'free grower' carrying an exceptional long staple fleece that is well nourished, bright and soft of 64s count.
MD Majectic 10-3467 A long bodied, square, deep sire with an excellent twist. 3467 is the true 'all-rounder', a great meat sheep with a +2.4 EBV for eye muscle and carries a bright soft handling fleece of 66s count.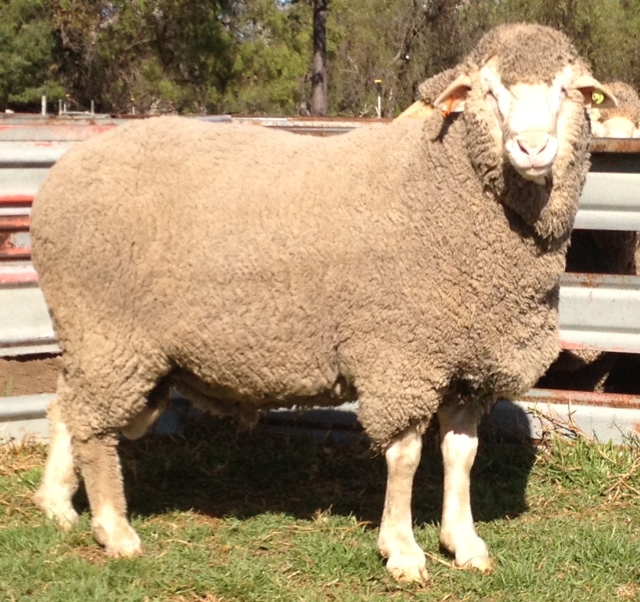 MD Majectic 10-3467
MD Empire 13-7021 An impact sire with an exceptionally long bodied, depth of barrel, spring of rib & deep twist. 7021 stands correctly & has a very good top line for a ram of his length. His outstanding feature however, is his wool quality & staple length. 7021 carries a bright, soft, deep crimping elite wool. 7021 has been used in studs in WA, Vic and SA.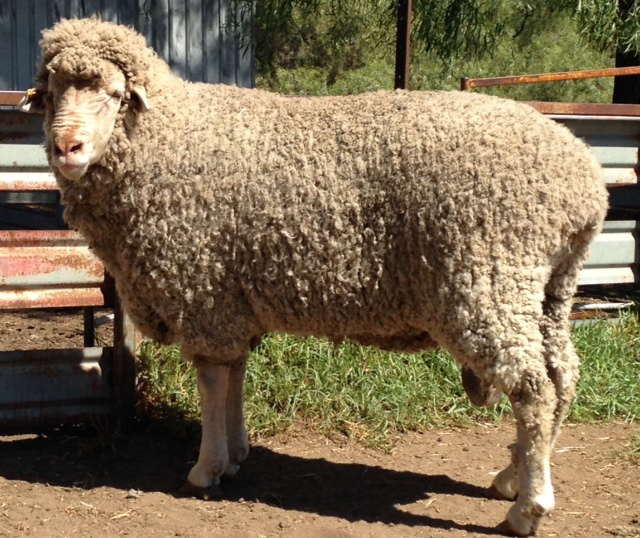 MD Empire 13-7021
MD Empire 13-7176 A deep, square sire with an excellent twist. 7176 carries a deep, even crimping 66s fleece. A half share was purchased by Glenlea Stud for $5,000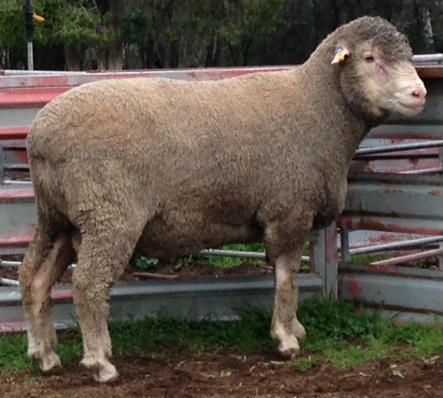 MD Empire 13-7176
TR14-7388 Wardry Semen purchased from Chirniminup Stud WA. A large upstanding sire of Uardry bloodlines. Progeny look extremely promising.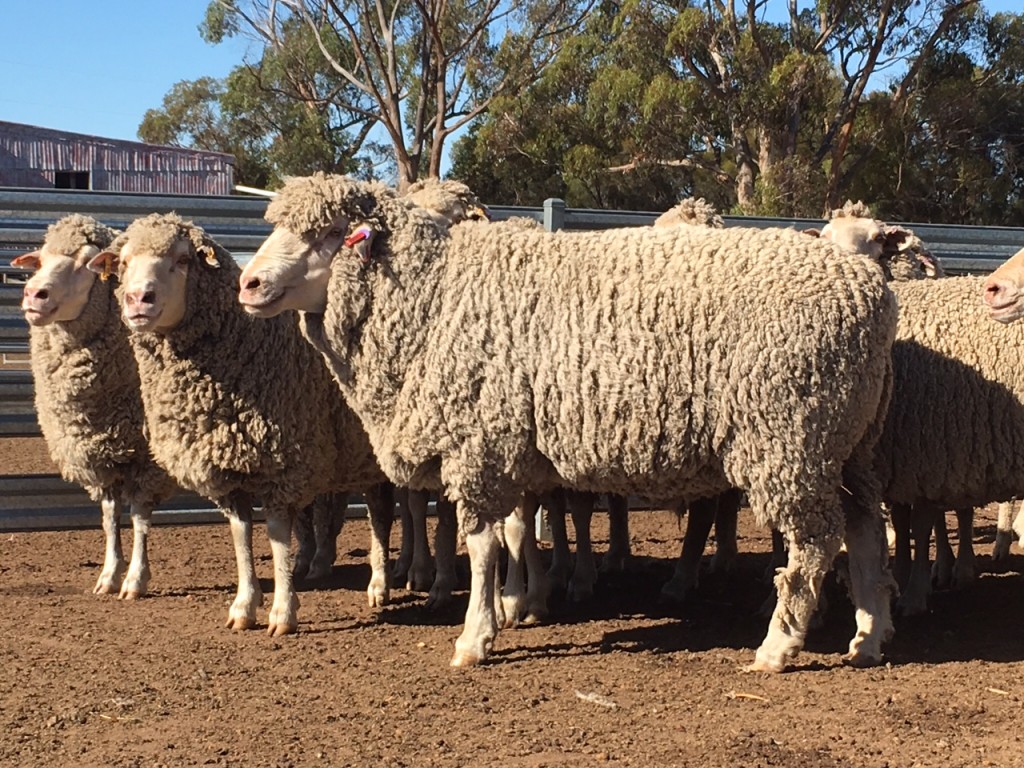 TR14-7388 Wardry
2017 Sale Rams
Sires from 4 families (Ace, Empire, Majestic and Wardry) are represented in the sale so a very large gene pool of genetics is on offer.
Consistency is key to our breeding decisions. Look at the uniformity and consistency that the Macquarie families have bred into their renown flocks by continually stacking the pedigrees with genetics that are pure and that they are familiar with.
The Sale rams are a tremendous draft of high quality genetics. They have been running on native pastures since June. They are well grown and in ideal working condition. I believe we have as much depth in the 2017 offering as any.
Upcoming sales
14th Annual On Property Ram Sale , Warren NSW
Wednesday 20th September 2017
150 Rams

13th Annual Southern Ram Sale, Ballarat VIC
Thursday 2nd November 2017
20 Rams
Grade rams will be available immediately after the
On Property Sale in 3 grades, $1200, $900 and $600.
Free delivery to most areas.