Victorian Dohne Invitation Ram Sale 2016 meets strong demand
Laura Griffin 2nd November 2016 Stock & land

Victorian Dohne Invitation Ram Sale
43 of 45 rams sold to $3300, av $1650
ALMOST three times as many rams sold at this year's annual Victorian Dohne Invitation Ram Sale compared to last year.
And despite the increased sales, the average remained comparable at $1650 and the top price was the same at $3300.
At the fall of the hammer last Thursday, 44 of 45 rams sold at the 12th annual sale at Ballarat.
Most of the 16 registered buyers were commercial producers who came from throughout Victoria, with two from Tasmania and one from southern NSW.
Sale group spokesman John Nadin said it was terrific to welcome a few new buyers to the Dohne breed.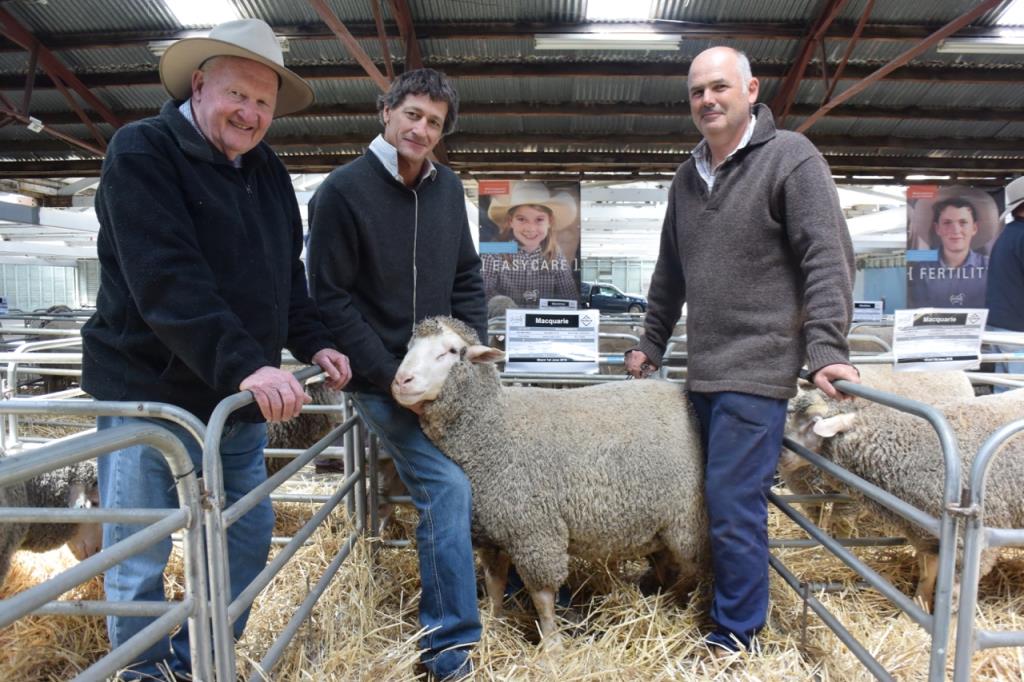 Classer Bill Mildren, Wodonga, John Nadin, Macquarie Dohne stud, and John Elliot, who bought Lot 45 for $3300.
Buyers included John and Jenny Elliott and Bruce Stewart, who bought two rams including the top-priced lot 41 from Mr Nadin's Macquarie Dohne stud, Warren, NSW.
​Mr Elliott said they had a commercial Dohne flock of 1700 ewes with half joined to Dohne rams and half to White Suffolks. They do a February joining for a mid-July lambing.
The sale-topping July 2015-drop twin ram had Australian Sheep Breeding Values (ASBVs) of 4.2kg post weaning weight (PWT), 0.3mm post weaning eye muscle depth (PEMD), 0.0 post weaning fat (PFAT), 4.6 per cent yearling clean fleece weight (YCFW) and an Dohne index of 154.4.
It was by a ram from Macquarie's long-established Olympic sheep family.
The Elliotts and Mr Stewart share farm at Sidonia and were helped by sheep classer Bill Mildren.
"Bill Mildren classes the ewe weaners yearly and selected a number of rams in the sale to enhance our breeding objectives," Mr Elliott said.
He said those objectives included being a dual purpose sheep; body confirmation; good wool; Australian Sheep Breeding Values (ASBVs); and trueness to type.
Vendor Mr Nadin agreed that the top-priced ram had make and shape and was a "terrific meat sheep" with good doing ability and fine/medium wool to handle Central Victoria's rainfall.
Mr Nadin also sold the second top-priced ram, lot 23.
It was the first Macquarie ram Judy and Craig Ross, Rockbank, Vasey, had bought. They purchased three more rams for an overall average of $2900.
The Ross family has been buying Dohne rams for six years to use in their self-replacing Dohne flock.
They will join 1300 next year, including some back to Dohnes and some to White Suffolks.
Mrs Ross said she liked the ram's figures for post weaning weight (5.1kg), post weaning eye muscle depth (0.6mm) and post weaning fat (0.1mm); and its positive yearling clean fleece weight of 5.3pc was a bonus.
"He was also a twin ram, so hopefully he'll help boost fertility in the flock," Mrs Ross said.
Macquarie cleared all of its 19 rams for an average of $2142.
Don and Karen Mills, Kardinia Dohne stud, Corowa, NSW, sold eight of nine rams to $2500, av $1800.
Alistair and Cheryl Greenshields, Glenaroua Dohne stud, Glenaroua, sold 11 of 12 to $1700, av $1155.
Murray Rogerson, Stirling Dohne stud, Glenthompson, cleared all of five rams, selling to $2700, av $2010.
Mr Nadin said overall the sale was excellent and showed the growing strength of the Dohne breed in Victoria, which was also evident in strong on-property sales in recent months.
He said that was driven particularly thanks to its meat and fertility traits, which makes it suited to self-replacing flocks.