Macquarie's $4500 high
Rams sell to healthy $2266 average.
Lisa Duce – The Land 28th September 2017
GREAT numbers were at Warren to witness the 14th annual on-property sale for the Macquarie Dohnes last week where 148 rams were offered for a top price of $4500 three times and an average of $2266, increasing the average from last year by just over $200.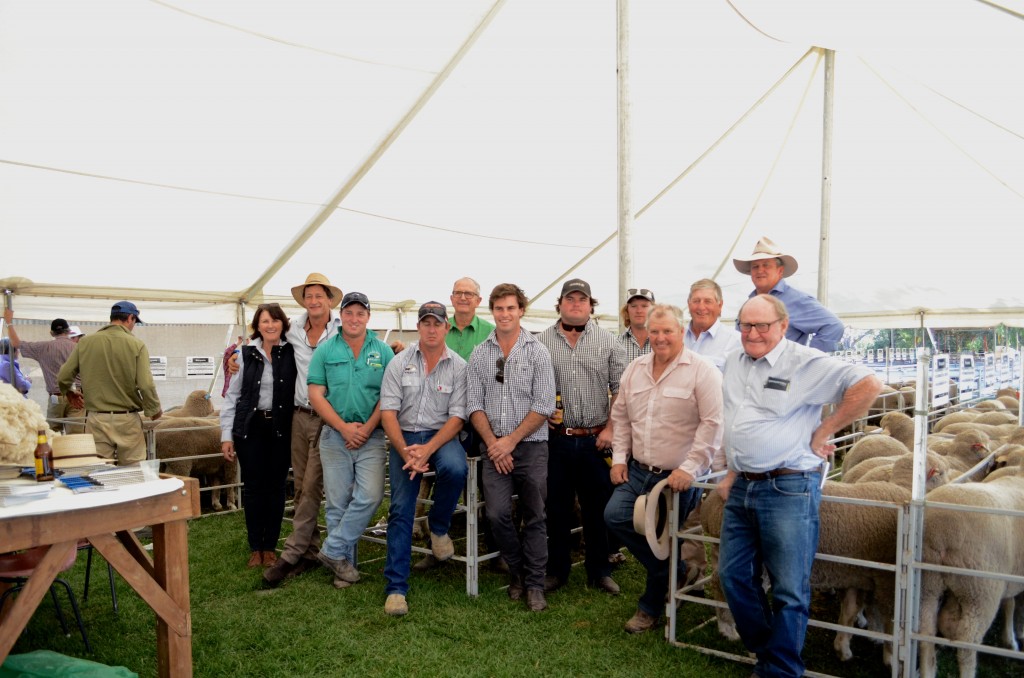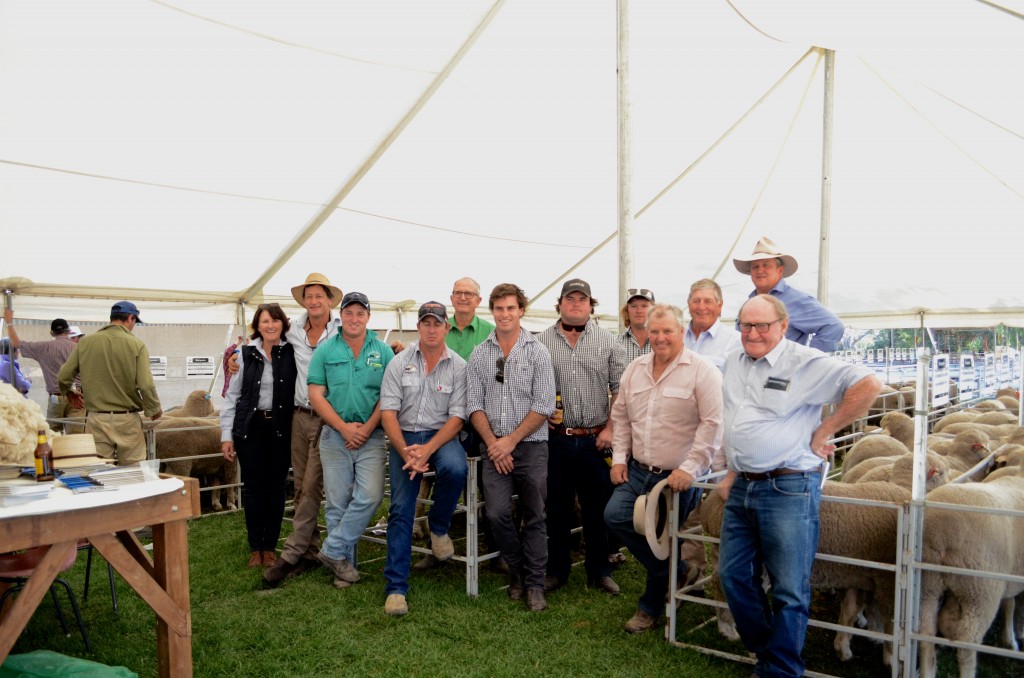 Walgett Crew – Sue Currey, John Nadin, Jake Stringer, Sam Evans, Robert Campbell, Justin O'Brien, Sam O'Brien, Mark Currey, Jim Currey, Dennis O'Brien, Chris Clemson, Michael O'Brien.
Of the 148 on offer, 138 were sold at auction in a hard climate of dry weather.
Of the three top priced rams, two were purchased by Michael O'Brien, 'Evandale', Come by Chance.
The first, an Ace family, June 2016 born twin with a post weaning weight (PWT) of 5.1 kilograms, a post weaning eye muscle depth (PEMD) of 0.5 millimeters and a Yearling Clean Fleece Weight (YCFW) of 16.5 per cent.
The second of his top priced rams was an Empire family, July 2016 drop, twin with a PWT of 3.0 kg, PEMD of 1.8 mm and a YCFW of 4.0 per cent.
"I like the overall magnificent quality of the rams supplied here by Macquarie Dohnes," he said.
"In the time they have been developing the Dohnes in Australia they have been in the forefront of having top quality Dohne sheep and we are only too pleased to support them."
Mr O'Brien's draft totalled 12 rams for an average of $2770.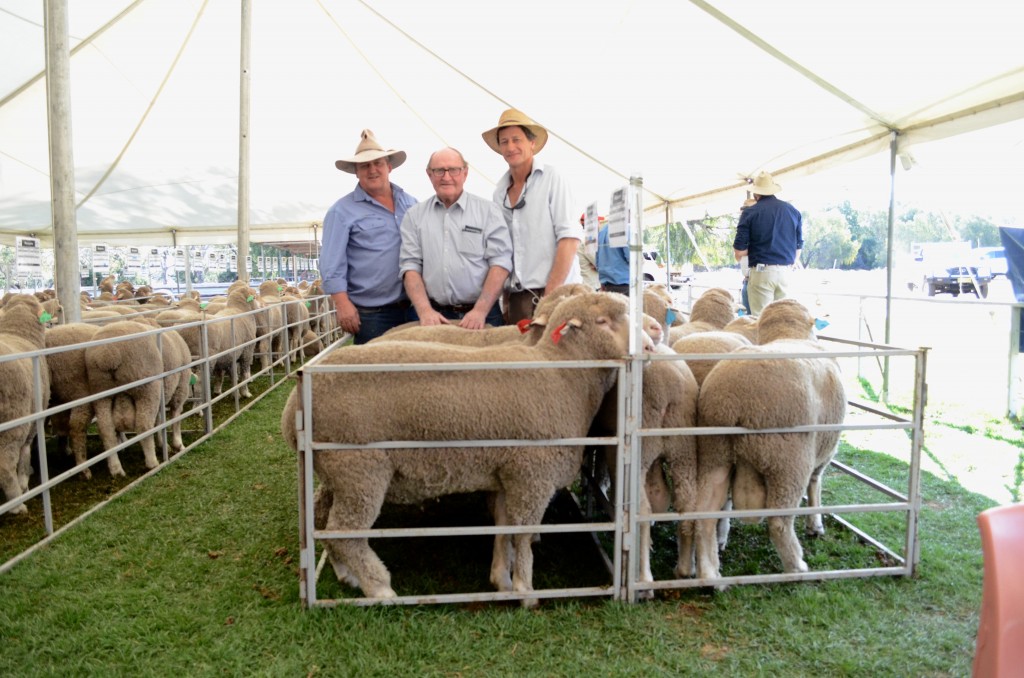 Chris Clemson – Clemson Hiscox Pty Ltd, Walgett NSW, with purchaser Micheal O'Brien – Come by Chance, Walgett and John Nadin Macquarie Dohne Stud.
The other top purchaser was second time buyer Robert Campbell from Tamworth on behalf of the Kigwigil partnership, Walgett.
His purchase was a Majestic family, July 2016 drop, single birth with a PWT of 4.5 kg, PEMD of 0.6 mm and a YCFW of 8.1 per cent.
"This ram really appealed to me for his size, the quality of wool, the very good colour and he stands extremely well. I thought he was a pretty good ram."" he said.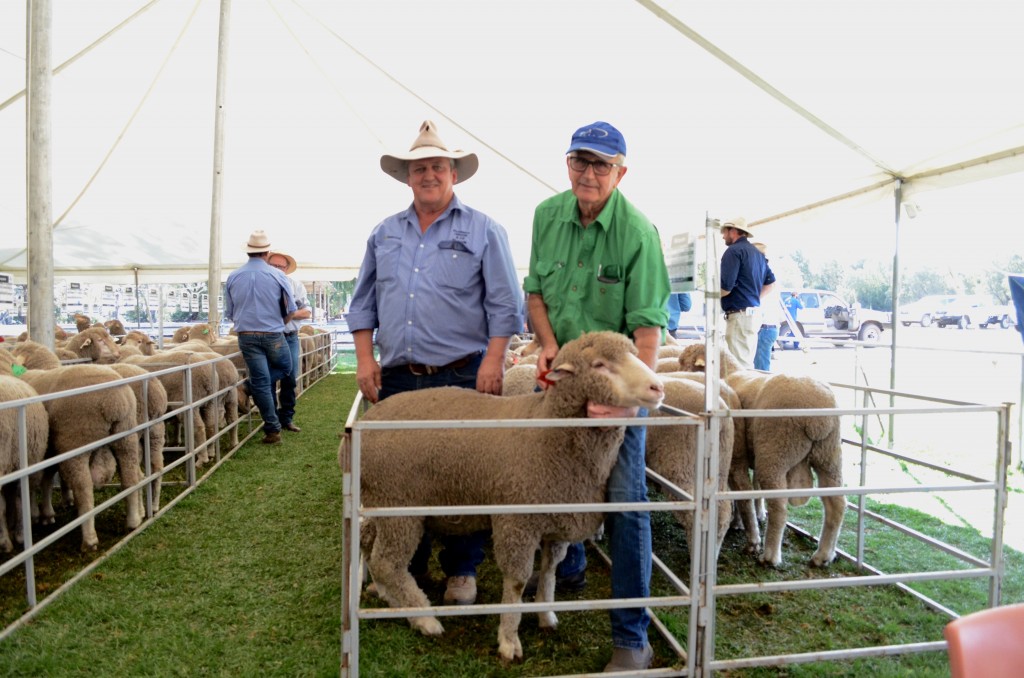 Chris Clemson – Clemson Hiscox Pty Ltd, Walgett NSW, with purchaser Robert Campbell, Tamworth, with the third top priced ram.
There were three other rams that came close to the top price at $4000. They will find themselves in the Warren and Walgett districts.
Close to the top price were six others that went to $3750.
These rams will find themselves located from Moree and through to Walgett.
Volume buyer, Justin O'Brien, Cryon Station, Walgett, purchased a draft of 20 in conjunction with his family. They are repeat buyers purchasing from the stud since 2005.
"We run 4000 ewes to pure Dohnes so we are topping up today." he said.
"These rams are very even, it was hard to get a bad ram today."
"We are aiming a little to the wool side but mainly to the meat."
"We like that John raises his sheep naturally, out in the paddock. These rams are not shedded so they acclimatise to our conditions very easily."
The O'Briens draft of 20 averaged $2362.
Other volume buyers included the Evans family, 'Netherby', Walgett who took home 18 rams, averaging $3055.
Jim and Sue Currey, "Aberfoyle", Walgett, also returned to secure another 10 of the popular rams for an average of $2375.
Agent, Chris Clemson, Clemson Hiscox and Company, Walgett, thought that it was an excellent sale.
"We were worried that our usual Queensland buyers were unable to attend due to conditions but we found that there were a lot of new buyers from Victoria and Tasmania to make up the numbers," he said.
"There was a good mix of new and repeat buyers,"
"There was a strong contingent from Walgett who got a about 70 rams between them,"
"This sale is getting stronger each year, the whole line up this year was impressive."
John Nadin, Macquarie Dohne co-principal, felt the sale was terrific considering the dry conditions.
"Normally we have rams go to Queensland, Bourke and Broken Hill but the conditions were too dry for these clients this time, the pleasing aspect was the next generation of young sheep men and women that attended, " he said
"My standout was the third lot although there is not a lot between all of them, they were all true to type."
"The clearance was down a little but we will still stick to our 150 in our sales regardless of the season.It's important to give clients a large selection."
"We have had four new clients at this sale from the south who would normally buy at the Ballarat, Victoria sale and clients who normally buy flock rams were able to get some of these rams."
"There are some great new clients and very solid support from return clients who believe the sheep are doing the job." he said.
The sale was conducted by Clemson Hiscox and Co, Walgett with guest auctioneer, Paul Dooley controlling the bids.