2019 Production Sale Results
Macquarie Dohnes sell 100 per cent at Ballimore sale
Lisa Duce, The Land 25 Sept 2019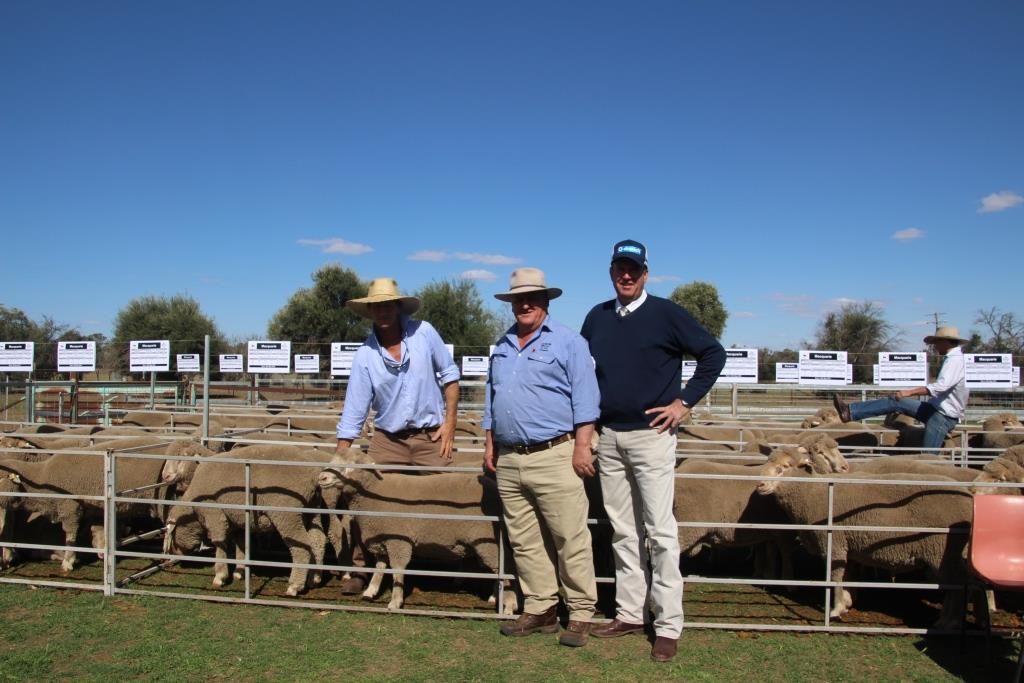 John Nadin of Macquarie Dohnes, agent Chris Clemson, Walgett, and auctioneer Paul Dooley, Tamworth, with the top priced ram.
MACQUARIE Dohne stud held their 16th annual production sale at their Ballimore ram depot on Monday to a good gallery of buyers.
With a 100 per cent clearance of the 115 Dohne rams offered, the sale topped at $6000 and averaged $1880.
The sheep will find new homes across the nation with bidders from Victoria, South Australia, Queensland and New South Wales all vying for the sons from five families; Ace, Majestic, Olympus, Empire and Wardry.
A volley of bids both on the phone and on-site saw MD180459, a twin son of a Majestic sire, KP132345, sell to a top price of $6000. He had a post weaning eye muscle depth (PEMD) of +2.6 and a yearling fibre diameter(YFD) of +0.1.
He was purchased via the phone for commercial breeders Craig and Jude Ross, Lower Norton near Vasey and Hamilton, Victoria.
They also purchased a second ram from the Majestic family for $4000.
Volume buyers were composite breeders Mt Elephant station, near Derrinallum in Victoria, who run about 20,000 breeders.
They were looking to do a trial with the Dohnes to maintain their growth rates and carcase attributes and reduce their micron.
They secured a draft of 15 to an average of $1450 and a top price of $2000.
The O'Brien family, Brigalows Pastoral Company, Evandale, Come-By-Chance, returned to buy 10 rams including the second top price of $3750 and averaging $2050.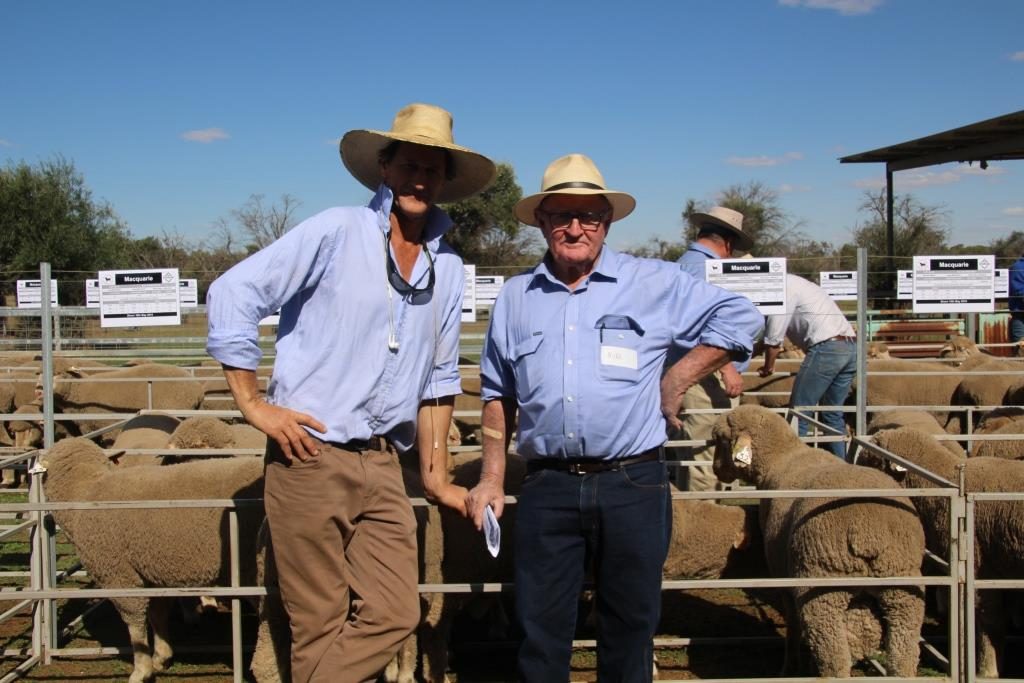 John Nadin and one of the volume buyers Michael O'Brien, Come-By-Chance, inspecting the sheep.
Michael O'Brien thought the rams were excellent quality and in very good condition considering the seasonal circumstances.
"The strength in the buying field was a very encouraging sign for the growth of the Dohne in Australian wool cycles," he said.
"We have had a very happy relationship with Macquarie Dohnes from our inception of using Dohnes for many years. We run them very much like the Merinos, heavily classed.
"It was great news to see John and the Nadin family along with Greg McCann putting this together. There is a lot of work involved and it gives us Dohne breeders a big lift as they are getting results."
The O'Brien Family Trust, Cryon Station, Walgett, also long-time buyers, bought eight rams to $3250 to average $2469.
Jim and Sue Currey, Aberfoyle, Walgett were also multi-ram buyers, taking home a draft of seven to top at $3500 and average $2143.
Nearby, Andrew Yates, Delvin, Garah, returned again for eight rams which averaged $1938 and topped at $3000 .
Stud principal John Nadin was very pleased with the sale.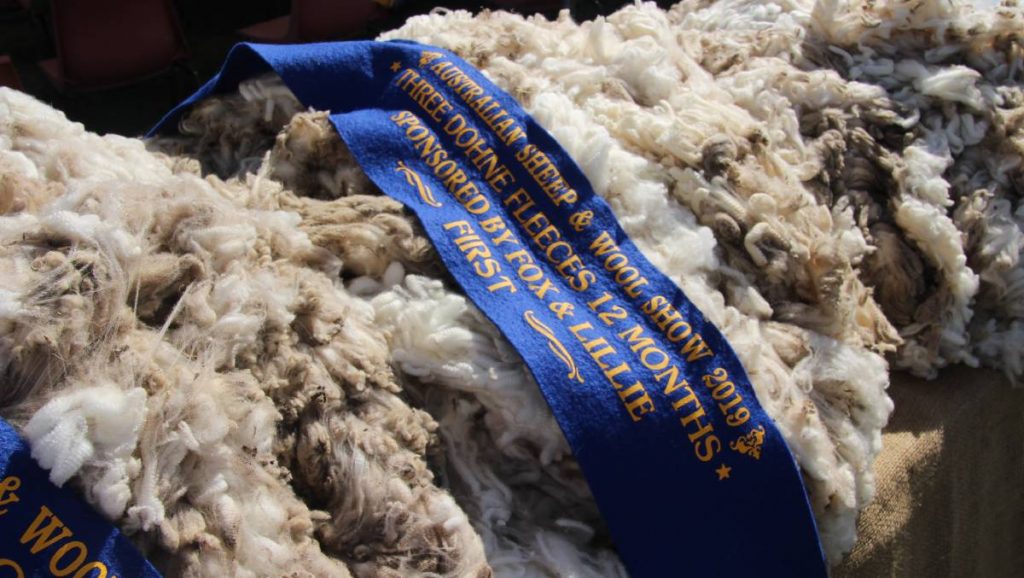 Some of the award winning fleeces from the Macquarie flock.
"With a 100 per cent clearance and nearly $1900 average, I was a bit overwhelmed with the results," he said.
"There were four or five rams that went to studs for seedstock from South Australia and Victoria which was pleasing."
Co-principal Greg McCann opened the sale with an explanation on the plans for the stud.
"Our aim is to produce an adult ewe weight in the vicinity of 65 kilograms," he said.
"This weight will ensure we can produce an animal that does not have a high maintenance requirement compared to heavier types. The name of the game is efficiency and this refers to all sectors of production of our Dohnes,
"From a meat point of view, eating quality is affected by intramuscular fat and shear force. Too much selection pressure on growth rates will have a negative affect on meat eating quality.
"We are aware of this at Macquarie Dohnes and aim to continue to breed a balanced animal."
He said from a wool prospective, they had always tested well but with the efforts of their assessors, John and James Koster they, they had seen changes over the past 20 years.
"There has been an increase in the want for non-mulesed status and many of the fashion labels are now transitioning towards this type of product," he said.
"Our view is that the sheep industry is in a very strong position for the foreseeable future. We just need to add water."
Agent Chris Clemson, Clemson Hiscox and Company, Walgett, said it was very pleasing to see a lot of long term clients from Walgett still buying up, even though it is dry.
"They are all very happy with the product John puts up," he said.
The sale was conducted by Clemson Hiscox and Company with guest auctioneer Paul Dooley.