2015 Production Sale Results
ON PROPERTY RAM SALE, WARREN NSW
The Land – Mark Griggs
FIVE rams purchased by five buyers topped at $2800 when 138 of 139 rams averaged $1701 during the 12th annual Macquarie Dohne on-property sale at Warren on Wednesday, September 23.
Rams went to 19 NSW clients and one from Queensland.
Yeoval district breeder who returned after six years to buy three rams for the top average of $2600 including two of the sale-toppers was Brad Kerin, Springlands Pastoral Company, who selected a son of the Coolibar (South Australian) sire purchased by Macquarie stud in 2013 as his first showing a Dohne Index Value (DIV) of 152.85.
Mr Kerin said his flock had lost a bit in wool cut but definitely gained on carcase and meat traits by moving to Dohnes, but his wool was measuring 19 to 20 micron and he was happy with the results he has been gaining from the breed.
"I join two-thirds of by ewes for spring and a third for autumn lambings," he said.
Mr Kerin's secod top-priced ram was by a Macquarie sire and showing a DIV of 132.39.
First-time buyer who was happy to spend up for another of the sale-toppers, David Cruickshank, Glenmona Partnership, "Glenelg", Gilgandra, also secured three rams for his flock of 500 ewes of Uardry and Calga blood and 19 micron average running on his mixed farming aggregation.
The trio averaged $2067 and he will join them next February but said he had success with his Dohne wether lambs. "I sold 80 lambs four weeks ago at 11 months at $166 a head," he said. The lambs averaged 55 kilograms in weight.
The Macquarie bred $2800 topper Mr Cruickshank purchased showed a 143.32 DIV.
Another buyer of three rams including a sale-topper was James Best, "Baroone", Gulargambone, who purchased his entire flock from his father, Ian, two years ago and is now running 2800 ewes.
Ian Best began his Dohne journey in 2002 on Macquarie and Calga blood with ewes now growing 19 micron wool on average, but giving 110 per cent lambing. James Best paid an average of $2000 for his trio and said he would join the rams this week to 600 ewes. "I'm bringing back my joinings from late to early October," he said.
Securing 10 rams for his Welbon Grazing Company, "Welbon", Garah, Chris Carrigan, said he was one of the longest clients of Macquarie stud, beginning his purchasing in 2000. The 10 rams topped at $2800 and averaged $1940.
Some 2800 to 3200 ewes run on "Welbon", at times and are joined in December.
Mr Carrigan said his lambs wool averages 18 to 19 micron while the older ewes average 20 micron, but again, it was the 110 to 125pc lambing returns he really liked. "This year from a chance mating of one ram I sold 38 wether lambs over the hook which averaged 24kg dressed at $3.40/kg, plus an $8 skin, all at five months of age," Mr Carrigan said.
Other longstanding buyers were the O'Brien brothers with Dennis O'Brien, Cryon Station, Walgett, paying to $2800 and an average $1843 for his 23 ram selection and Michael O'Brien, "Evendale, Come By Chance, securing 18 for a $1467 average.
The sale was conducted by Landmark Wilson Russ, Warren, with Paul Dooley, Tamworth, the guest auctioneer.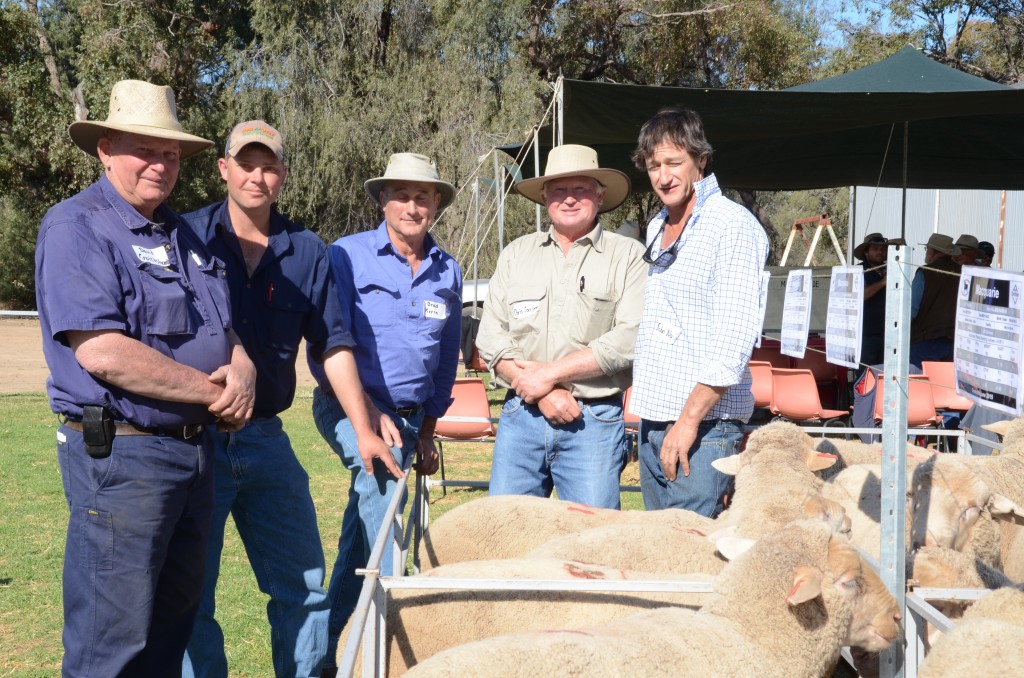 Five buyers paid equal $2800 six times at the 12th annual Macquarie Dohne ram sale, Warren, on September 23. Pictured are four of the buyers David Cruickshank, "Glenelg", Gilgandra; James Best, "Baroone", Gulargambone; Brad Kerin, "Springlands", Yeoval; and Chris Carrigan, "Welbon", Garah; with Macquarie stud co-principal, John Nadin.