2013 Sale Results
UARRDY BLOOD PERFORMANCE RAM SALE, HAY NSW
THE inaugural Uardry-blood Dohne sale, held at Hay's famous Shear Outback last week, met reserved reception with a small contingent of 16 buyers competing on the 145 rams offered.
The sale was created when the Kardinia and Macquarie Dohne studs bought a large run of Dohne ram lambs at the Uardry Dohne dispersal last December and looked to offer them back in the Riverina to service old Uardry clients in southern NSW, Victoria and South Australia.
In the wrap-up 88 of the 145 rams sold at auction to average $1147, topping at $2400 three times.
Australian Wool Network agent Dale Bruns, Hamilton, Victoria, lead the charge, paying to the equal top price of $2400 for 10 rams to average $1680 for client Peter Rooney, manager for Sovereign Hill Pastoral at "Narmbool", Elaine, Vic.
The top ram was from the Kardinia stable with Australian Sheep Breeding Values including an index of 131.01, bodyweight of 4.08 and eye muscle depth (EMD) of .045.
Sovereign Hill paid $2200 for another ram, also from Kardinia, with ASBVs including 4.78 for birthweight, 0.17 for EMD and indexing 127.61.
Mr Rooney runs about 2428 hectares in Victoria's Western Districts and has been buying Dohne rams for six to seven years, chasing high indexing, big bodied, bright woolled rams.
First time buyer Brendan Jordan, manager of Enstone Pastoral Company, Falmouth, Tasmania, with his sheep and wool advisor Andrew Murfett, Roberts Limited, Launceston, Tas, bought 15 rams from the Macquarie to a top of $1400, averaging $1093.
Mr Jordan said the rams will go across first-cross ewes to put some weight and wool quality back in their sheep.
He runs 3000 ewes and this was the first time he had bought Dohnes, but will look to purchase more rams at the Macquarie sale at Warren at the end of the month.
Yaccabri Pastoral Company, "Yaccabri", Rankin Springs, paid $2400 and $1300 for two new sires, with the top ram from Kardinia having and index of 134.77, birthweight of 3.23, EMD of 0.44 EMD and clean fleece of 14.24.
Volume buyers hit the mark with Woomera Pastoral Company, Dubbo, buying 15 rams at $1013, while Koonbah Pty Ltd, Dubbo, bought 18 rams at the upset price of $1000.
The sale was conducted by Elders with Ron Rutledge as the auctioneer.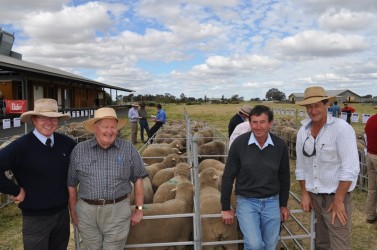 ---
ON PROPERTY RAM SALE, WARREN NSW
RAMS reached a top of $3800 and an average of $1620 at last Wednesday's Macquarie Dohne Stud sale at Warren with buyers attending from NSW, Queensland and as far away as Tasmania.
The Nadin and McCann families offered a total of 135 rams at the 10th annual on-property sale, of which 111 sold.
Stud co-principal John Nadin said feedback from buyers had included positive comments on the wool quality, scale and muscling of the ram draft.
He said the overall result was pleasing, especially given dry conditions throughout northern NSW and Queensland.
Purchasing the top ram of the sale at $3800, MD12-5339, were Dennis and Justin O'Brien, DP O'Brien Family Trust, "Cryon Station", Walgett.
The ram was sired by MD092488 and from MD052361, and had an index of 156.61 which placed it in the top 10 per cent of the breed.
Mr Nadin said that all up, 30pc of the Macquarie draft had indexes in the top 10pc of the breed.
The O'Brien Family Trust, who are repeat clients of Macquarie, took home a total of 11 rams to an average of $2145.
Purchasing a total of 18 rams at the sale were Michael and Tom O'Brien, O'Brien Brigalows Pastoral company; their top ram was purchased for $2800 while their draft averaged $1677.
Other buyers included Mark, Sam and Sarah Evans, Walgett, who took home 11 rams at a top of $2600 and an average of $1981.
Jim, Sue and Mark Currey, also of Walgett, purchased 10 rams to a top of $2000, twice, and an average of $1300.
Tasmanian buyers, Enstone Park Partnership, purchased six rams to a top of $2400 and an average of $1633; Enstone were first-time buyers at the Macquarie Dohne ram sale.
Geoff Hunter, Garah, purchased six rams to a top of $2200 and an average of $1600.
Chris Carrigan, Garah, purchased eight rams to a top of $2000, twice, and an average of $1475, while Bill Yates, also of Garah, took home nine rams at a top of $1800, twice, and an average of $1177.
Mr Nadin said lot 17 was auctioned to raise funds for the Warren Sensorimotor Programme, with the ram purchased for $1600 by a syndicate of Walgett buyers including Dennis O'Brien, Michael O'Brien, Mark Evans, and Jim Currey and families
"They very generously donated the ram back for sale and it was purchased by Paul and Janet Kilpatrick, "Teasdale" Warren for $1400; to raise a total of $3000 for the Warren Sensorimotor Programme," Mr Nadin said.
"The Nadin and McCann families are extremely grateful for the support of this local programme."
The sale was conducted by Landmark Wilson Russ, Warren with Paul Dooley, Tamworth as auctioneer.
---
VICTORIAN DOHNE INVITATIONAL RAM SALE, BALLARAT VIC
15 of 33 rams sold to $4800, av $1567.
THE frequency of auctioneer Paul McCormick's hammer characterised the 9th annual Victorian Dohne Invitational sale, with more than 50 per cent of rams passed in, which lasted a little more than half an hour.
The 13 buyers began at a brisk pace, competing for a Macquarie Dohn ram, Warren, NSW, which topped at $4800, purchased by RW&EA Mccoll, Meredith.
Angus Mccoll will put the ram over his stud ewes for size and cleanness through the legs.
The remainder of the rams were subject to opportunistic bidding from commercial buyers, with the second-highest priced ram, a Kardinia Dohne stud sire, sold to JR Nicholson & Sons, Campbell Town, Tasmania, at $2100.
David Nicholson, JR Nicholson & Sons, represented the mood of purchasers at the sale, suggesting he made the trip to Ballarat to "spread the load of rams" ahead of the Tasmanian Dohne week.
The Nicholsons purchased four rams, while Turello Estate, Clunes (three), WM&L Culverson, March, NSW (two) and St Elms Farms, Wallaloo (two) were the other multiple buyers.
Auctioneer Paul McCormick said buyers may have needed more of a confirmation there was a season ahead of them before purchasing rams.
"Some aspects of the season are still worrysome for producers, which might explain the hesitation," Mr McCormick said.
Macquarie stud principal John Nadin said the sale, which was established nine years ago to promote the Dohne breed, was a victim of a saturated market.
"A lot of people are having on-property sales around this time which meant that anything that wasn't quite there (genetics) wasn't sold," Mr Nadin said.
He said the multi-vendor sales served the purpose of developing smaller studs in different areas, but are being reconsidered in some cases.
"We are going to drop the Naracoorte, SA, sale next year because there are eight smaller studs established, which are selling rams," he said.

---
TASMANIAN DOHNE INVITATIONAL RAM SALE, CAMPBELL TOWN TAS
23 of 31 rams sold to $2000, av $1410.
A TOUGH autumn for Tasmanian sheep producers was reflected in the results of the recent Dohne invitational sale.
A Macquarie Dohne ram, purchased by the Fowler family, Bendeveron, Bothwell, Tas, topped the sale at $2000, and the pair combined for the sale of the second highest-priced ram, at $1900.
Macquarie Dohnes, NSW, sold seven rams to a top of $2000, av $1685; DD Dohnes, Moama, NSW, sold three rams, top $1800, av $1500; and Kardinia Dohnes, Corowa, NSW, averaged $1350 for two rams which topped at $1700.